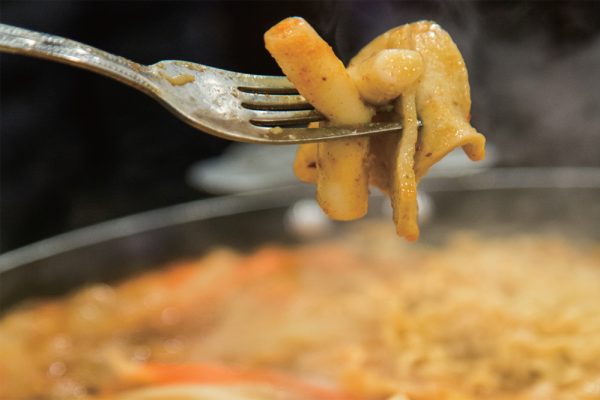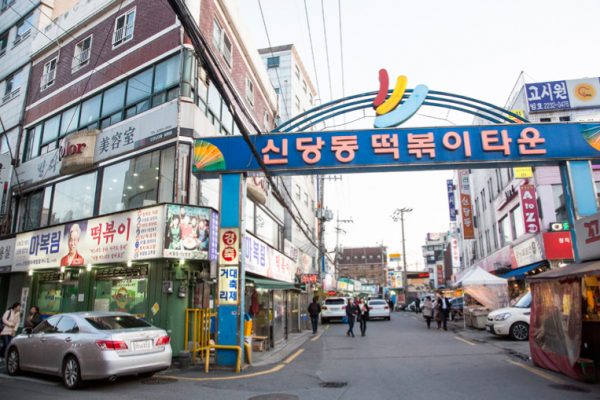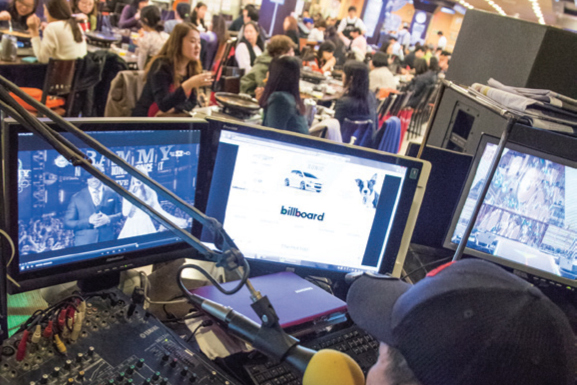 Korea's national dish, Topokki, has a unique spicy taste and is inexpensive, so everyone – from young students to office workers – can enjoy it without financial strain. The ratio of red pepper paste to syrup is appropriate, giving topokki a balance of spiciness and sweetness that makes it popular with everyone, regardless of age or gender. The place you can get a sense of the origin of topokki is the Shindang-dong Topokki district.
Originally, topokki was royal court food which the king used to eat. The rice cakes were stir-fried with beef and vegetables and seasoned with soy sauce. However, since the end of the Korean War, topokki has become a street food and the recipe has been simplified dramatically. At that time, kirim topokki was introduced. It was made by frying rice cakes in an oiled pan and adding a soy sauce-based sauce. At some point, red chili pepper powder started being added to the kirim topokki that was commonly sold at the entrance to markets. Finally, the familiar red topokki with spicy chili pepper sauce was introduced in the 1970s, and this originated with Shindang-dong topokki.
Around the Shindang-dong topokki district, there is a line of topokki shops. Originally, right after the Korean War, street vendors cooked topokki huddled over charcoal briquettes on the street, and their topokki became so popular that these vendors were able to open their own shops. Restaurants that started back then and were passed down from generation to generation have kept their own unique taste. Unlike other general snack bars, these shops are quite large, so it takes a good 10 minutes to walk from the entrance of the topokki district to the end. You can eat topokki there anytime because these restaurants are open 24 hours a day. Valet parking is available. Some also have a DJ booth; you can write a request, and the DJ will read it to the crowd and play your song.
There are two kinds of topokki: made-in-advance and made-to-order. When you have the made-to-order type, a pot of topokki, water, red chili pepper paste, rice cakes, and dumplings is brought to your table and put on a burner, and you cook it right at the table. Shindang-dong topokki is this kind of made-to-order topokki, so you order it according to the number of people, and a pot of rice cakes, ramyeon, jjolmyeon (chewy noodles), dumplings, and hard-boiled eggs is brought to the table.
The ingredients in topokki are relatively simple, but depending on the ratio, it can have thousands of different flavours. The difference between general topokki and Shindang-dong topokki is the black bean paste used with chili paste in the seasoning. So, unlike the topokki that is usually found in Korea, which only includes chili paste and is very red, Shindang-dong topokki is the color of red clay and is not very spicy. One other attractive thing about it is that you can easily get extra servings of ramyeon, jjolmyeon, dumplings, and tempura. In the Shindang-dong topokki district, there's no need to worry about not having enough to eat. When you order topokki according to the number of people, right away a pot fully ready with rice cakes and all different kinds of extras is brought to you. You can add many various extras to taste. One of the fun things about eating made-to-order topokki is finding extras mixed in with the stick rice cakes.
When the pot is brought to the table, you just wait until the water starts boiling and gradually add in the seasoned sauce. You need to keep stirring so that the rice cakes and noodles don't stick to the bottom of the pot. The ramyeon can easily overcook, so as soon as its ready, its best to eat it right away. The broth reduces, turning the color of red clay and getting thicker. Then, it's time to turn down the heat and serve everyone. It tastes very nice when you mash the hard-boiled eggs and mix them with the broth. If you're still not full, order extra rice; it's great when they make fried rice mixed with seaweed flakes with the remaining topokki broth. If you want to experience Korea's own food culture, just go to Shindang-dong topokki area.
Mabokrim Topokki +82-2-2232-8930 Seoul Jung-gu Dasanno 35 gil 5
This original made-to-order topokki shop has been in operation since 1953.
Mabokrim Mangne Ahdeul-neh (Youngest Son) +82-2-2253-1466 Metro Seoul Jung-gu Dasanno 221
This place is run by the youngest son of the original Mabokrim Topokki restaurant.
I Love Shindang-dong +82-2-2232-7872 Seoul Jung-gu Toegye-ro 76-gil 50
The DJ booth takes requests; live acoustic guitar music at certain times.
Mini-ne +82-2-2232-4425 Seoul Jung-gu Dasanno 219-1
At the back of the restaurant, there are tables so you can eat comfortably.
Ujeong +82-2-2233-0669 Seoul Jung-gu Toegye-ro 76-gil 55
This place is famous for their delicious chicken feet.
Samdae Halmeonne +82-2-2233-1559 Seoul Jung-gu Toegye-ro 76-gil 50
Delivery service can be ordered online.
Jongjeong +82-2-2234-3649 Seoul Jung-gu Dasanno 217-1
Topokki seasoning sauce is provided on each table so you can adjust the spiciness to your taste.
Woorijip +82-2-2232-4531 Seoul Jung-gu Dasanno 217-1
There are some tables on the basement floor, so you can dine comfortably.
Yaksok Topokki  +82-2-2252-2616 Seoul Jung-gu Toegye-ro 76-gil 58
The topokki here contains thin fish cake and lots of cabbage.
Deulgukhwa +82-2-2235-2967 Seoul Jung-gu Toegye-ro 76-gil 61
Fried dumplings are provided separately so you can choose whether to add them to your topokki.