The 2015 Blue Ribbon Awards
The <Blue Ribbon Awards> is an award ceremony—the first of its kind in Korea—to honor chefs who made a significant contribution to the development of delicious Korean cuisine throughout the year. One of the biggest events in the Korean food industry, the first annual Blue Ribbon Awards was held on October 19th, 2015, by Blue Ribbon Survey, the premiere restaurant review in Korea, and generated a huge buzz among the Korean public interested in gourmet food and fine dining.
The main difference between the Blue Ribbon Awards and other awards is that the winners are chosen by consumers. The nominees are selected through reader evaluations which have been collected by Blue Ribbon Survey since 2005, with a vote conducted among consumers with a great interest in fine dining. Nominees must have a minimum amount of work experience related to the category of the awards, and most importantly must have made a major contribution in the field; the winner is announced at the awards ceremony. Currently, winners are chosen from the fine dining industry, but the award categories are expected to gradually expand.
The 2015 Blue Ribbon Awards
At the <2015 Blue Ribbon Award>, five chefs were awarded in four categories, including Chef of the Year, Pastry Chef of the Year, Achievement Award, and the Yap Young Chef of the Year.
Chef of the Year is divided into two categories: Korean food and foreign food. In the Korean food category, the Chef of the Year was Chef Im Jeong-sik of Jeong Sik Dang, and in the foreign food category, the winner was Chef Im Gi-hak of L'Espoir du Hibou. The Pastry Chef of the Year award went to Chef Lee Hyun Hee of DesserTree, and the Yap Young Chef of the Year was Chef Kang Mingoo of Mingles, who we expect to see great things from in the future. The Achievement Award, which acknowledges the significant contribution of a senior chef to the development of fine dining culture, was given to Chef Yeo Gyeong Ok of Toh Lim, an accomplished master of Chinese cuisine in Korea.
2015 Blue Ribbon Award-winning Restaurants
Chef of the Year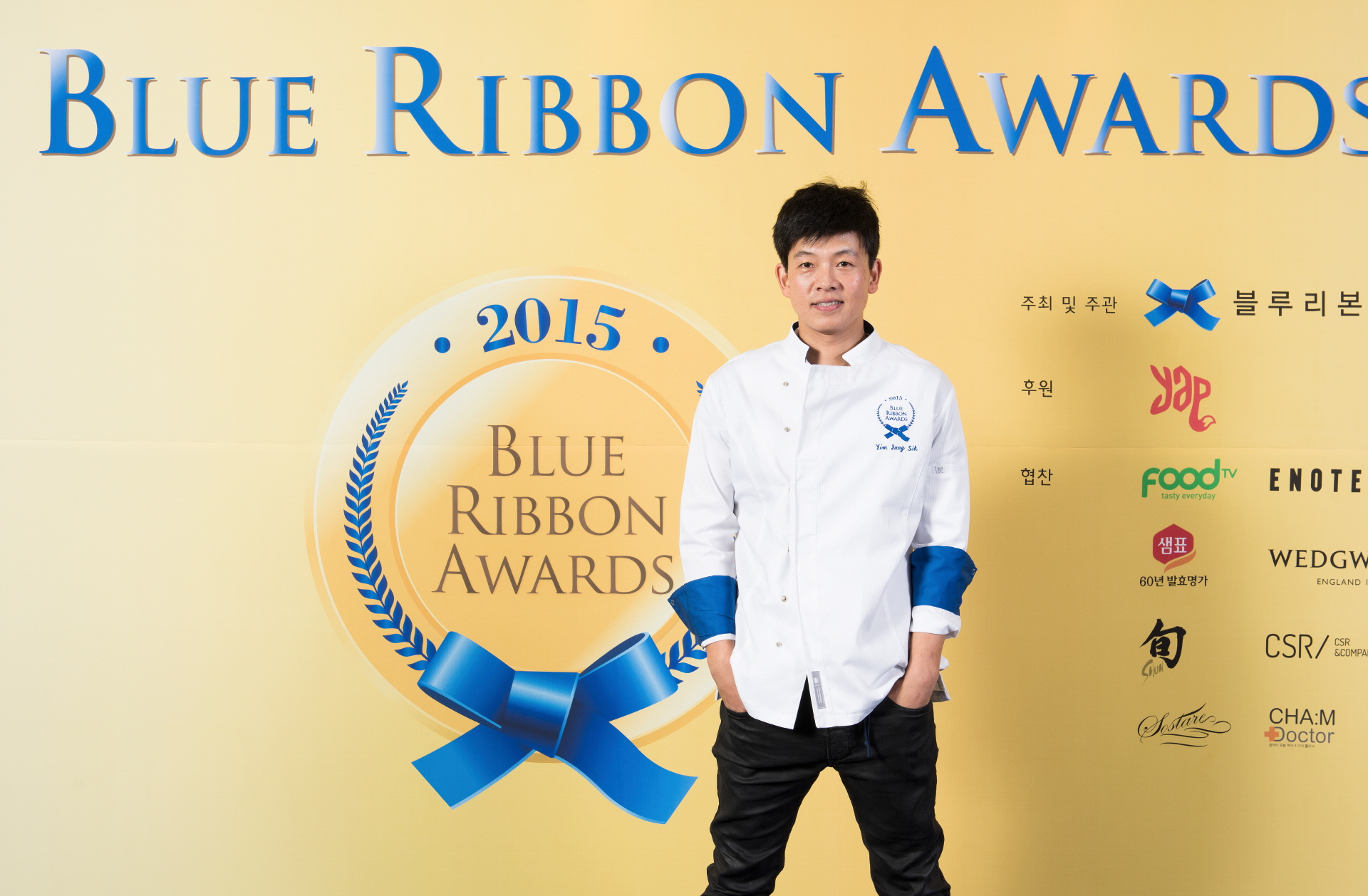 Korean food category: Chef Ym Jungsik
Jungsik
This restaurant is pioneering New Korean, a new style of cuisine, and is one of the restaurants that best represent Seoul. Chef Im Jeong-sik was recently influenced by global gourmet trends and uses ingredients and cooking techniques from Korean or Western cuisine without restriction in the preparation of his world-class dishes. He has opened another branch in New York to much acclaim. In the first Blue Ribbon Awards, he was awarded Chef of the Year.
Address: 83-24, Cheongdam-dong, Gangnam-gu
Phone: +82-2-517-4654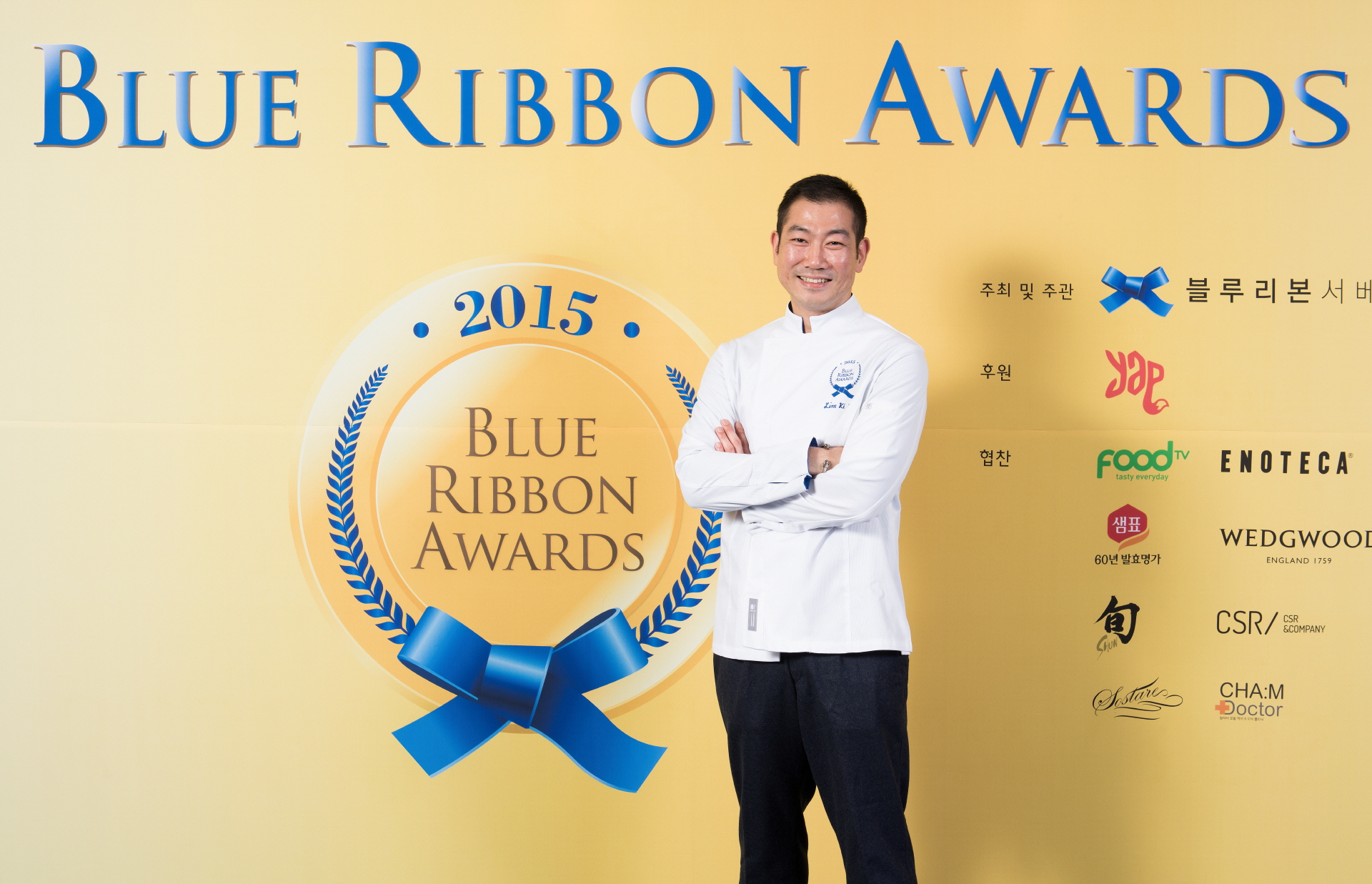 Foreign food category: Chef Lim Kihak
L'Espoir du Hibou
This casual French restaurant is a bistro. Chef Lim Gi Hak has an extraordinary passion for cooking, and his skills are at their peak. Popular dishes here include duck leg confit, sogalbi (beef short ribs), and braised lamb shoulder, and their onion soup is said to be the best in Seoul. The restaurant also serves delicious charcuterie, which makes an excellent accompaniment for wine. When the weather is suitable, enjoy your meal on the terrace.
Address: 16, Dosan-daero 59-gil, Gangnam-gu
Phone: +82-2-517-6034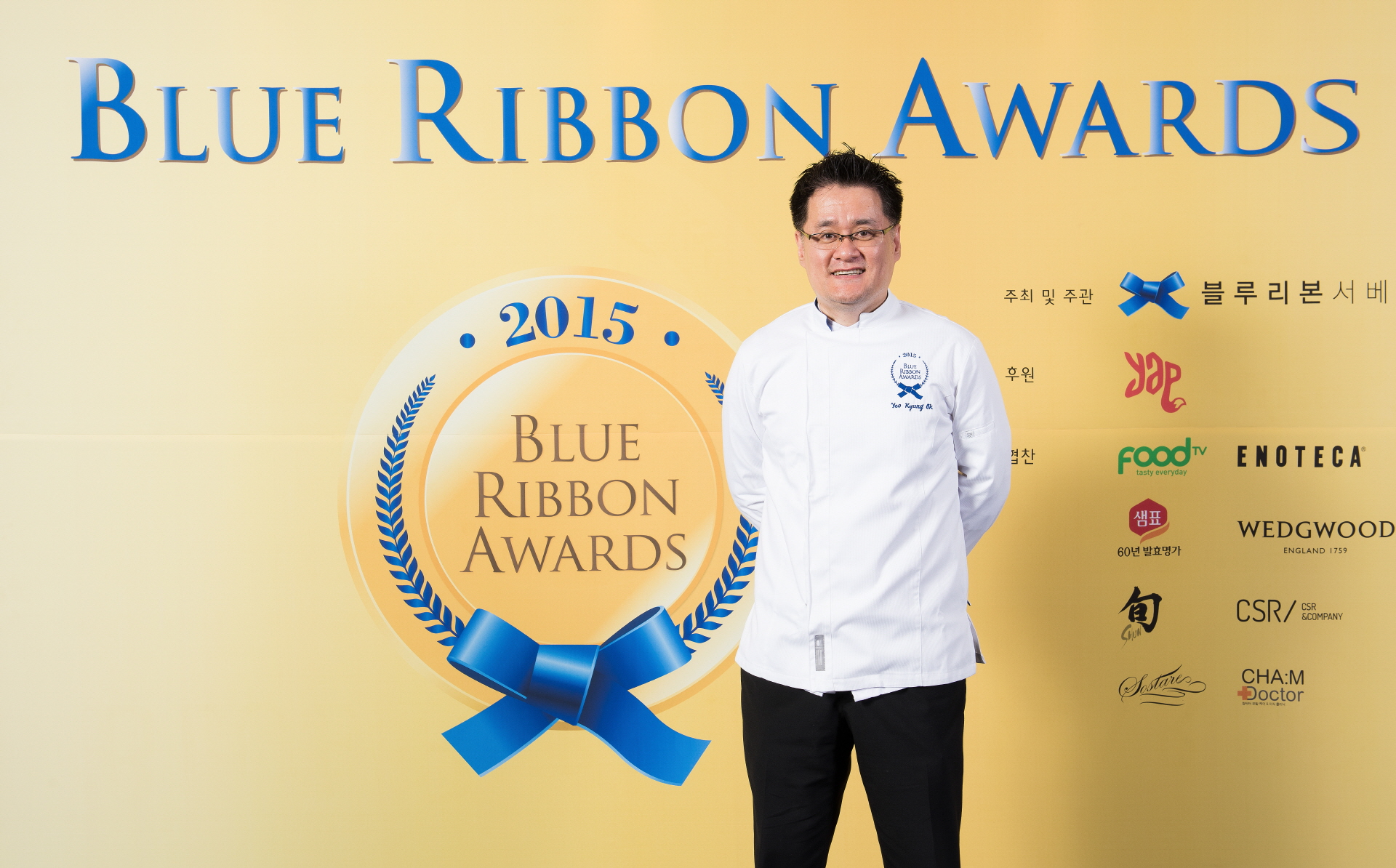 Achievement Award: Chef Yeo Gyeong Ok
Toh Lim
Enjoy Chinese cuisine in a classy modern atmosphere. The spectacular view takes in all of downtown Seoul. Famous for dim sum, they offer a separate dim sum brunch menu on weekends. They have over 30 kinds of Chinese tea that pair well with Chinese dishes, and another advantage of this restaurant is that you can enjoy listening to descriptions given by their tea sommelier. Star chef Yeo Gyeong Ok, who received the Achievement Award from Blue Ribbon, has joined and introduced an even more upgraded menu. The view from the 37th floor is also excellent.
Address: 37F, Main Building, Lotte Hotel Seoul, 30, Eulji-ro, Jung-gu
Phone: +82-2-317-7101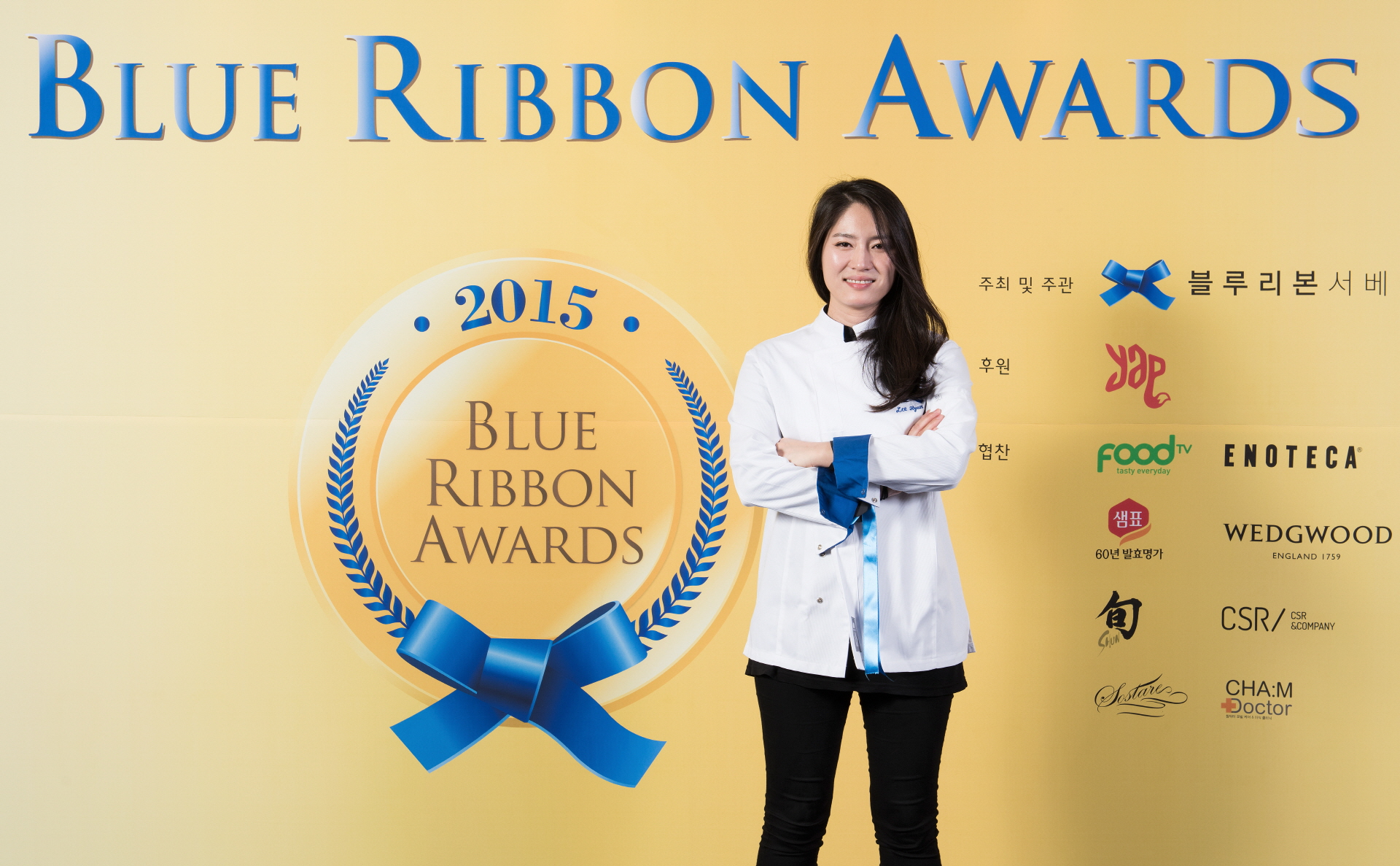 Pastry Chef of the Year: Chef Lee Hyun Hee
DesserTree
DesserTree is a cafe specializing in dessert, representing gastronomic desserts. You can enjoy authentic French desserts prepared by Chef Lee Hyun Hee, a graduate of Le Cordon Bleu in Paris. The desserts are plated with exquisite skill, and are not only beautiful but also taste excellent. When you order their dessert course menu, you can enjoy tea along with dessert. New desserts are presented seasonally.
Address: 653-7 Sinsa-dong, Gangnam-gu, Seoul
Phone: + 82-2-518-3852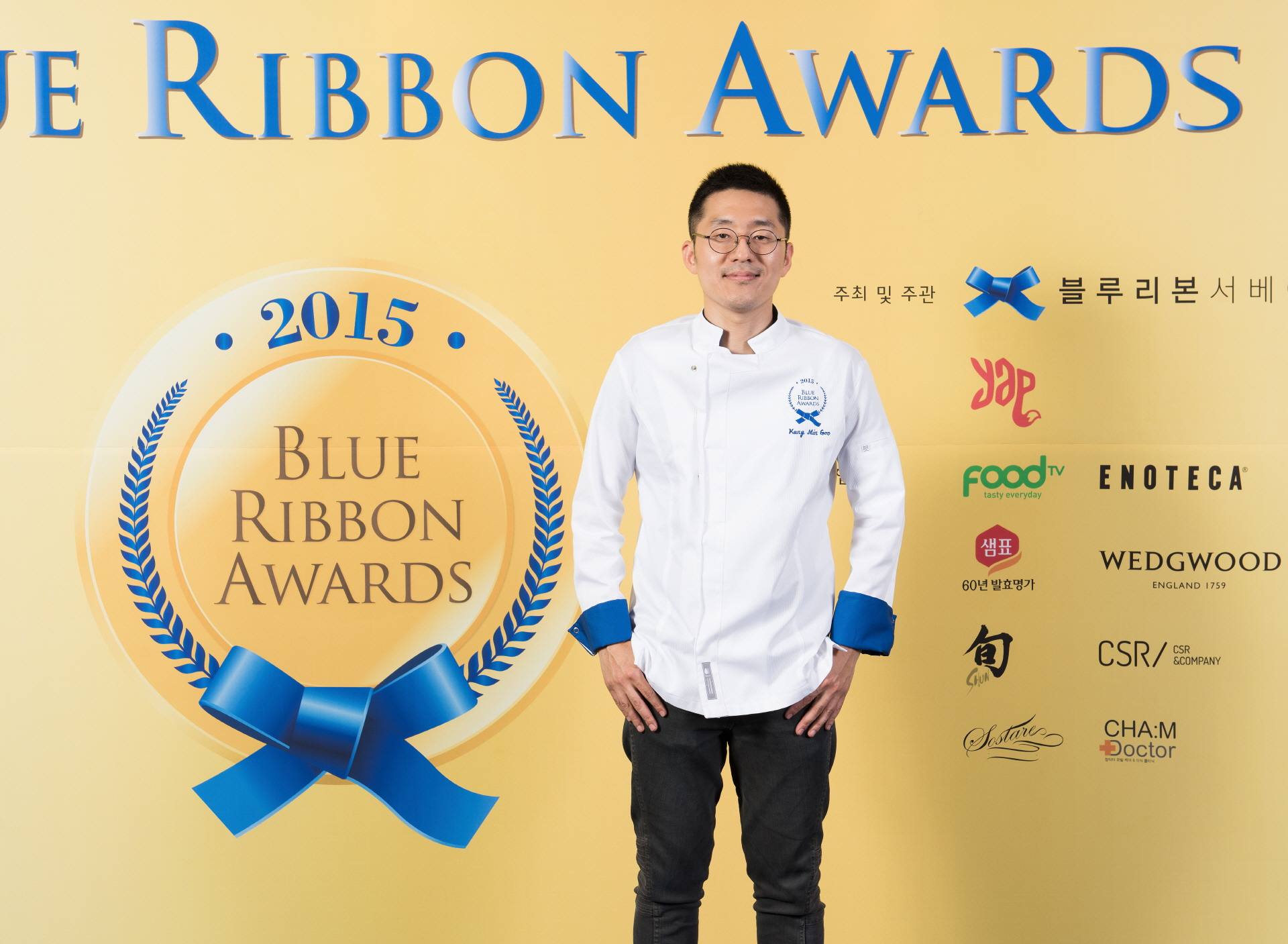 Young Chef of the Year, sponsored by Yap: Chef Kang Mingoo
Mingles
Mingles is a New Korean restaurant run by Chef Kang Min-gu, who was the executive chef at the Bahamas branch of Nobu. The restaurant presents a full-course menu of reimagined Korean dishes, including foie gras torchons wrapped in white kimchi, chargrilled lamb, and ohchup bansang (soup, rice, and kimchi accompanied by five side dishes). The food styling is impressive, with Korean cuisine serving as the base and various Asian added touches. You can enjoy high-quality fine dining accompanied by traditional liquor which pairs perfectly with the characteristics of the cuisine.
Address: 94-9 Nonhyeon-dong, Gangnam-gu, Seoul
Phone: +82-2-515-7306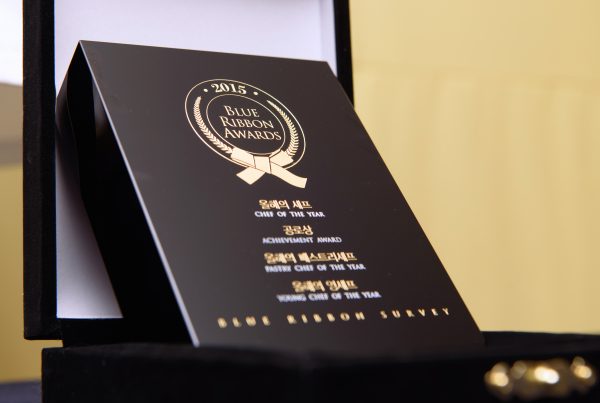 BLUE RIBBON AWARDS 2015
The 2015 Blue Ribbon Awards The <Blue Ribbon Awards> is an award ceremony—the first of its kind in Korea—to honor chefs who made a significant contribution to the development of delicious Korean cuisine throughout the year. One of the biggest…
July 21, 2016
Read More